Postal Artist Books
Virtual Exhibition of the International Exchange Artist Books Project
International Artist Book Library Collection
Curator Ângela Barbour _ 72 Artists from 36 Countries
Pabellón de las Bellas Artes UCA, Buenos Aires, Argentina
Exhibition: from October 21st to December 19th, 2021
Live event of Virtual Exhibition: October 21st, 12pm BRT (GMT-3) at
https://www.instagram.com/pabellonartesuca/
Link to Virtual Exhibition:
http://uca.edu.ar/es/pabellon-de-bellas-artes/postal-artist-books
Click to enlarge the flyer: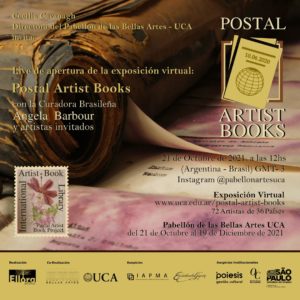 Postal Artist Books is the exhibition of the collection of the artist books made in pairs by 72 artists from 36 countries enrolled in the Postal Artist Books Project,between the years 2020 and 2021, during the Covid-19 Pandemic.
This project aimed to create an opportunity for artists around the world, to exchange experiences through the exchange of Artist Books, in this difficult access period.
Each artist was assigned, through a draw, a partner from a different continent than his own. Thus, pairs started a joint work, where each artist produced an artist book to be completed by the partner. The books created by each artist were sent to the partner artist who completed it on the other side of the world and then sent it to us, in Brazil, for the organization of the exhibition.